On July 11, Better Business Bureau serving the Heart of Texas shared its Mid-Year Report during a virtual press conference which focused on the state of consumer-reported scams to BBB Scam Tracker from Texas residents in 2023. So far this year, consumers have lost more than $4.3 million to scams in the Lone Star State, exceeding total losses per year from 2018-2022. While the number of reports BBB has received from January – May of this year remains consistent with previous years, financial losses have increased significantly. The top three costliest scam types this year include cryptocurrency or investment ($1.6 million lost), online purchase ($768,000 lost), and sweepstakes ($630,000 lost) scams. These three scams have historically resulted in high financial losses every year. However, reports of employment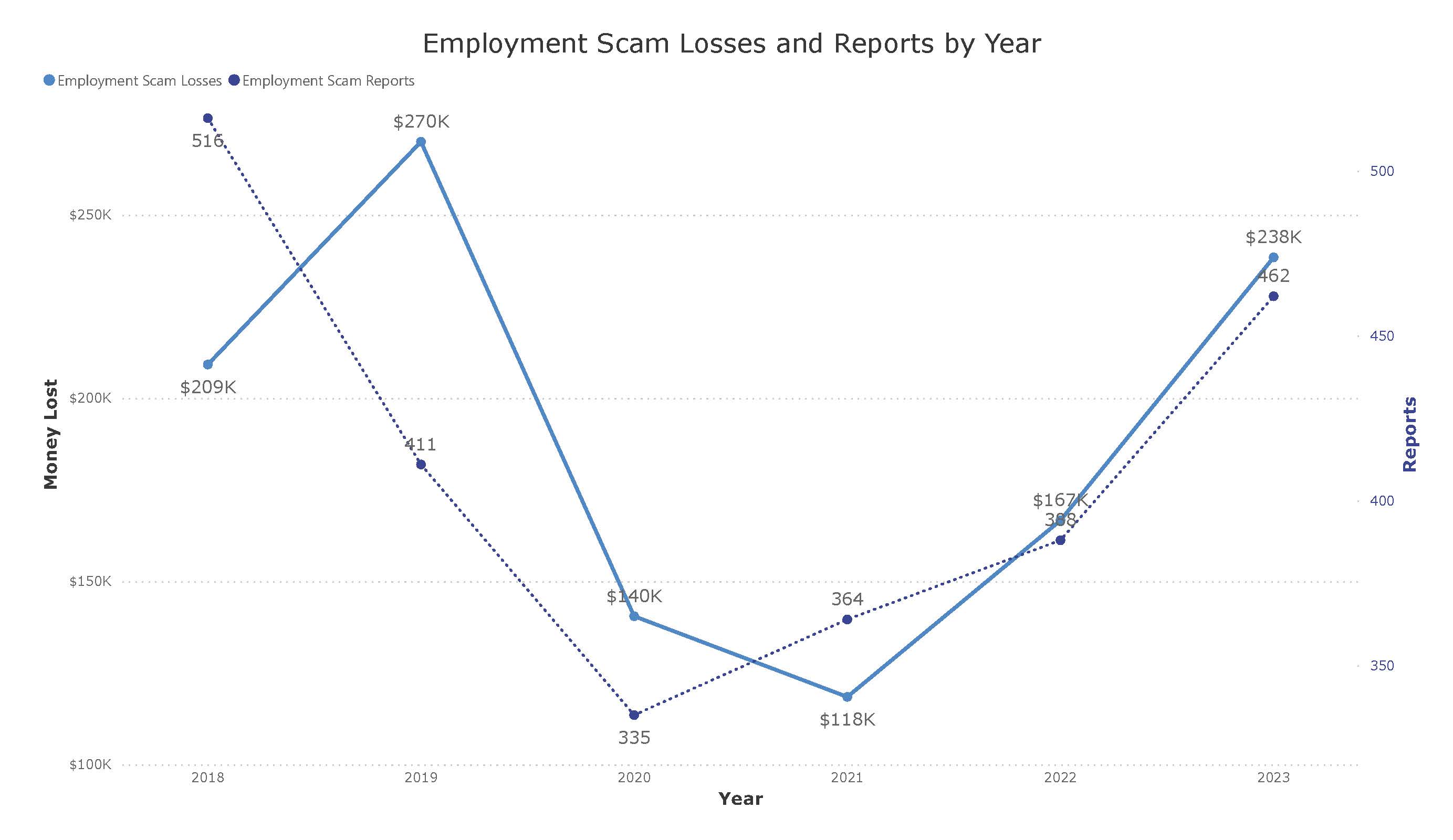 Some scams affect all age ranges relatively equally, such as online purchase and phishing scams, but certain age groups are particularly susceptible to varying tactics. Texas residents over 65 are more vulnerable to sweepstakes, prize and lottery scams, while younger residents encounter fraudulent employment positions more frequently. Of all age groups, those between 35-44 years old experience the highest financial impact, with nearly $1.6 million lost to fraudulent businesses or individuals operating in the market from January – May 2023. Increased losses in this age group are primarily driven by encounters with fraudulent cryptocurrency and investment opportunities, often resulting in lost thousands of dollars. Despite low losses and reports from Texas residents between 18-24 years old, BBB estimates the impact of unethical practices on this age group is substantially higher than what is being reported. To help Texas consumers avoid scams and unethical business practices, BBB recommends residents:
Be wary of too-good-to-be-true offers. Be skeptical of any offer that conflicts with the established market for a product or service, especially when framed as a 'limited time' deal that requires immediate action or payment. Scammers capitalize on a sense of urgency and entice consumers with great prices on products or services in high demand.
Verify contact information and legitimacy. Research a business's legitimacy by checking BBB.org and other reputable sources. Verify there are multiple working contact methods and that the physical location listed is a business. Scammers often use addresses for vacant lots or residential homes and a phone number not in service.
Recognize the signs of a lookalike website or dashboard. As consumer habits shift to digital services and online marketplaces, scammers take advantage of the opportunity to create highly sophisticated lookalike websites, investment dashboards, and employment portals. Before inputting personal information in an online system, verify it is secure by checking for the 'lock' icon in the search bar and that the domain or subdomain contains no spelling errors. Be wary of any communication from a generic email domain such as 'info@gmail.com.'
Report your scam experience to BBB and the FTC. Reporting scams helps organizations and agencies understand the evolving tactics and strategies criminals and con artists use. These reports can also be highly beneficial to support the proper authorities in prosecuting illegal practices. Only through consumers taking the time to submit information can BBB and other organizations warn the public of ongoing marketplace issues.
For more information about BBB's Mid-Year Report, please get in touch with your local representative, Heather Massey.
ABOUT BBB: The Better Business Bureau has empowered people to find businesses, brands and charities they can trust for over 110 years. In 2022, people turned to BBB more than 250 million times for BBB Business Profiles on more than 5.3 million businesses and Charity Reports on about 12,000 charities, all available for free at BBB.org. Local, independent BBBs can be found across the United States, Canada, and Mexico, including BBB serving the Heart of Texas which was founded in 1950 and serves 105 counties across Texas.